The Dr. Calvin "Herb" and Barbara Ward Endowed Interdisciplinary Chair in Environmental and Water Sciences was established by Dr. Herb and Barbara Ward in recognition of education he received from New Mexico State University (NMSU). The time Dr. Ward spent at NMSU helped him excel and reach goals and dreams he did not know were possible. With the guidance of faculty Dr. Ward attended Cornell University and went on to have an award winning career as a faculty member at Rice University.
Dr. Ward has multiple academic achievements as shown by his time at Rice University. Dr. Ward was Chair of the Department of Environmental Science and Engineering for 22 years. He recently became an emerita faculty Professor of Environmental Science and Engineering, Ecology and Evolutionary Biology and Director of the Energy and Environmental Systems Institute at Rice University. Dr. Ward also held the Foyt Family Chair of Engineering at Rice University. During his tenure Dr. Ward was affiliated with numerous professional associations and has received many awards in his fields of expertise. He is also sought out as an expert in the biodegradation of industrial waste. Dr. Ward has published 10-12 books and numerous professional articles. He is very proud of his accomplishments and the contributions that he has made to individuals and society.
As with academics, Dr. Ward is also a committed family man. He and his wife Barbara have shared many happy years of marriage while raising three children. They spend time at their home in Houston as well as a family vacation home in Arkansas where they can relax and enjoy their grandchildren.
Income from the endowment will be used to provide resources in the College of Agricultural, Consumer and Environmental Sciences (ACES) to a faculty member, within the College of ACES or within other partner colleges within NMSU, who is engaged in environmental sciences with an emphasis on water technology and science. This chair will focus on an interdisciplinary approach, in which faculty must work within partnerships of colleagues within the entire university system to solve problems. As Dr. Ward would say, we are not funding a chair for a particular field but for a particular problem in which solutions must be worked on within a team approach to solve.
In that context, and with guidance from the Dean on current critical research priorities, these initial guidelines provide that income from the endowment will be used to provide resources in the College of ACES to an exemplary faculty member who is engaged in environmental and / or water sciences.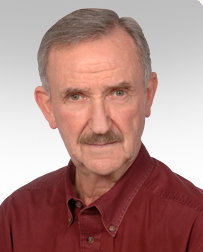 To support the C. Herb Ward Family Endowed Chair, please click the giving link above, or contact:
NMSU Foundation
Phone: (575) 646-1613
E-mail: foundation@nmsufoundation.org